Imagine a business scenario with no customers in it! It will be as good as a well developed city with none to inhabit it. By the same logic a city minus its population may have no immediate implication. But a business minus its dedicated customers' base is surely fraught with far reaching financial consequences.
Question of survival!
The need for managing customer life-cycle in the highly globalised and competitive modern-day enterprises has a direct bearing on their survival. It is as simple as understanding your basics – more customers mean more business and increasing profits. But in a jumbled and highly complex market place where one individual's preferences vary from the other, managing customers' lifecycle for the growth and expansion of businesses is a challenging enterprise.
CLM: The panacea!
What, then, do we understand by customer lifecycle management or CLM? In simple terms it is a process of analyzing the performance of a business over a period of time on the basis of numerous customer-centric metrics. The exercise, actually, helps a business understand its standing in the market and calibrate its overall strategy using the customer-centric metrics. All these are to ensure competitiveness and longevity of enterprises.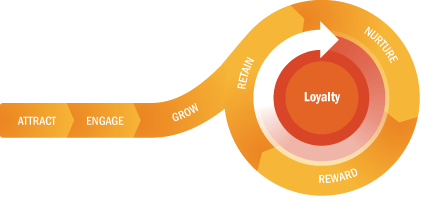 Building customers
According to market-experts, management of customers' life-cycle in a business essentially entails:
Drawing potential customers' attention to business
Helping them take informed decisions and make purchases
Convincing customers into buying a product on offer
Earning loyalty of customers on the basis of their satisfaction with product or services
Using customer satisfaction factor to attract more customers to enter the cycle
Plumb5 for Customer Life-cycle Management
Plumb5's marketing platform helps businesses manage the seemingly jumbled customers' data and work out customer lifecycle with much ease. Marketers constantly work on customer data to derive insights from past campaigns. But the difficulty in managing customer lifecycle is due to the fact that customer data is available across various data sources like web reports, transaction data, email responses, social analytics and other.
Reports in real time!
However, for analyzing the customers' data available in different sites, the marketer needs to export these as excel and build a custom app to read the web-services offered by the respective sources and overlay data to arrive at customer behaviour.
To address this problem, the Plumb5 has built profiler for the marketer, to synchronize his or her external sources and overlay data to arrive at desired reports, in real-time.
Customers' satisfaction
Today, for businesses cutting across various sectors customer's satisfaction has become the prime driving force for income generation. With competition increasing every passing day and more players entering the same business ecology, enterprises have been left with no option but to leverage on their brand equity and try and win over new customers to their folds.
Management of customer lifecycle, which means compiling and analyzing data on behaviour and preferences of individual customers from a cross section of sources, has therefore become an integral part of any business management exercise.