Introduction
Knowledge base at Plumb5 is a learning platform that offers exposure to various aspects of digital marketing in businesses, right from its objectives to its need to its advancements. By and large it propels between the most important activities i.e, acquisition and retention of audience in any business.
Over the years, there were quite some advancements digitally in the field of marketing and sales but don't you worry, we've got it all covered up for you in this course. All the concepts have been thoroughly touched upon and simplified as you move ahead.
Now to get into the insights of digital marketing and sales automation, we ought to know what is marketing and sales in its entirety!
As you read through, you will find the journey of automation systems running from fundamentals to its advanced levels.
Do you ever wonder how a business or a brand could rightly target who might potentially be their customer for their product or service? If you haven't yet guessed, it's the Marketing Automation Platforms that enable the businesses and brands to reach to their prospects effectively. These systems shortlist the number of potential buyers and assist the marketers to streamline their strategies in a coherent manner.
Marketing automation industry is a growing and booming industry that can be a real game-changer for small to giant businesses.
Conventionally speaking, sales and marketing are seen as separate functions. Where on one hand, marketing aims to generate awareness about the company to its audience and, sales on the other hand aim to turns that into a potential customer. However, these functions are executed for a common goal which is either customer acquisition or retention.
Take a moment and think of a system which accomodates both functions in a single platform! Let us crack it for you...It'll be the ultimate solution for any company that vigorously works on building a competent customer relationship with their leads/prospects.
Marketing and sales automation refers to a productive interplay between the respective departments. They provide insight into prospect and customer behaviour which in turn helps the businesses reach growth at a faster and a quicker pace. What does growth mean here? It simply translates to the conversion of prospects into potential customers.
There is a teeny weeny cycle involved where, marketing is the first guy to play the cards, sales jumps in right after and if there is still no conversion, then marketing gets reactivated. This cycle repeats until the desired results are met. Now, all you have to do is imagine both these functions being automated by an intelligence. Boom! That's the ultimate solution, is it not?
We hope, the introduction helped you capture the essence of automation in marketing and sales. You will explore more as you move ahead. Happy reading
Audience
This content is made to a specific target audience who wish to be full time users or part time users viz.,
Digital Marketer
Campaign Managers
Marketing Analyst
Business Analyst
Marketing Cost Optimizer
Data Scientist
CMO
Sales Representative (For LMS Only)
Sales Executive (For LMS Only)
Sales Manager (For LMS Only)
How does it help the Audience
Any personnel who belong to the above category of jobs in any organization can read and understand the platform, its functionalities, how to read dashboards and how to roll out Marketing and business reports and dashboards and generally the usage is based on their Key Result Areas viz.,
Web Traffic Management with metrics
Marketing Outcome Management with metrics
Lead Generation Metrics
Lead Management Metrics
Unified Contact Management
Campaign Management and metrics
Periodic Business Result measurement
Business Analysis with Intelligence (As per Business Scope)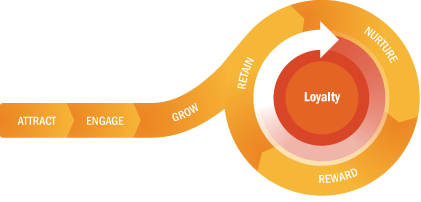 About this Guide
This guide is prepared to help the audience understand Plumb5 as a platform starting from how to use this guide, common functionalities, pre-requisites and it covers all the modules to understand how any user can do more with this platform.
What is Plumb5
Plumb5 has many roles to play in any business and the Architecture is designed to cater solutions for any data problems in any business.
Plumb5 can be called as the following
Real Time Marketing Automation Platform
Real Time Customer Engagement Platform
Marketing Intelligence Platform
Customer State Machine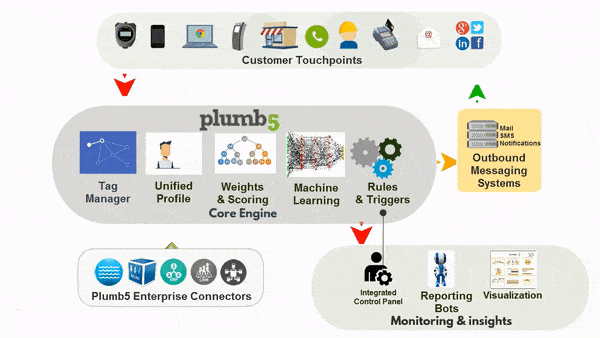 WE ARE TALKING ABOUT A MACHINE THAT CAN CONTEXTUALLY ENGAGE A CUSTOMER THROUGHOUT THEIR LIFECYCLE
Regardless of any customer touch-point. The secret sauce behind this machine is the ability to compute in real-time and output customer states, which is consumed by the automation engine to respond based on rules for any kind of customer request. Everything in real-time. 24/7. SUCH A SYSTEM NEEDS DATA TO BE ORGANIZED FOR LEARNING AND AUTOMATION Most solutions are bundled silos which create latency and inaccuracy, bringing down the effectiveness of your business. Plumb5 offers a perfect platform to unify your data so that accuracy in customer engagement automation is upheld and a seamless machine driven decisive system drives your business.
UNIFIED STACK
Single Data View without data redundancy The definitive edge for Plumb5 is its powerful unified architecture, which packs speed, accuracy and intelligence to make it a suitable platform for machine driven business automation.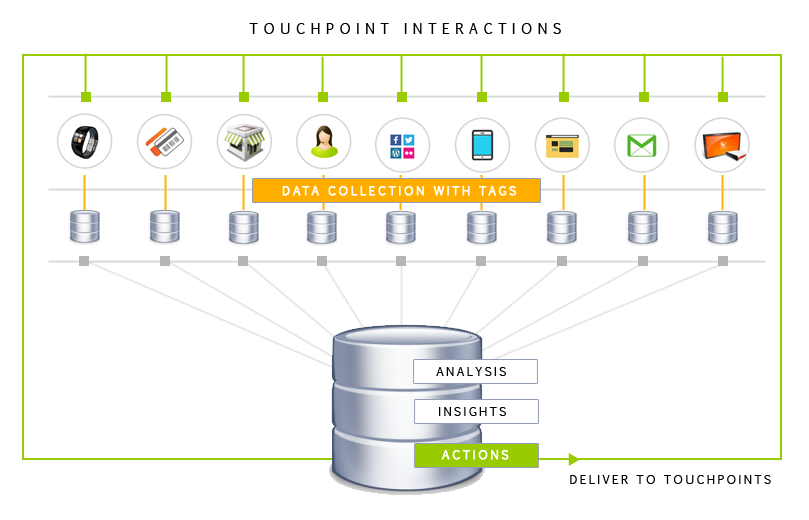 What makes a customer-centric unified stack most powerful?
The Unified Data Architecture is what makes Plumb5 most powerful, allowing business to scale exponentially using automation, speed and accuracy. The architecture is designed by building relationships between data parameters into a structure which behaves like a Turing tape. Such a structure can solve any business-related problem arising from data or data automation.
Base Architecture with tagging pre-sets (Absolute Data Tagging)
It is important to build a data aware model where captured data is directly stored against the tag. For new data, it is important to build the relationship as it's being stored. With this, each time data is collected, it can store against the pre-existing tag. If done for each customer/user, it would create a holistic view across all channels and sources. If data is sequenced using time-series, it can create complete customer journeys without gaps. If objective states are set, it can create tags based on stages of the customer lifecycle. With this we achieve a holistic view of a single customer without any gaps. This makes way for accurate analysis.
Behavior Patterns and Real-time scoring
Now that we have the customer journey of a single customer, successful and unsuccessful patterns can be identified. Assigning meaningful scores to each event can help in creating auto segmentation based on behavioral parameters which broadly comprises customer. interactions, responses, transactions and user sentiments.
Association Rules and Real-time scoring
The behavioral data provides insights that help in delivering recommendations based on past purchases, wish lists or by patterns derived from users with similar profiles. We can use real-time recommendation models to arrive at a product list by scores based on association parameters.
Real-time pattern matching or state identifiers for trigger activation
Using a lifecycle grid analysis, you can create states across the customer lifecycle and use the behavior or recommendation scores to trigger communication. A rule library for each state or segment type will allow the machine to trigger communications if a particular rule is satisfied.
Response recording and the insight churn loop
After the communication is triggered, the system needs to loop back the responses of the customer with respect to the communication and store data against the pre-existing tag. This ensures that the new responses are added to the existing insights and the new derivative is rendered for next action. Storing against the tag will help maintain single customer data at all times.
---