Customer Acquisition can be far more cost effective if marketers employ growth hacking techniques. Most of the growth hack techniques involve identifying and targeting prospective buyers, based on the info available on the free web and getting connected on an one-to-one basis to share marketing messages.
Reverse combing is a variant of growth-hack technique to acquire customers effectively by way of effective targeting. This technique does not believe in high volume advertising but works on a fixed target, which is proportional to maximum delivery potential of the business.
For instance, if the business has the capacity to produce 10000 products or a hotel which has to sell 1000 nights per month, the steps would be:
a) Identify potential buyers- ( who by research are mostly likely to buy)
b) Engage in targeting 1:1 communication
c) Entice and draw the prospect to the purchase path
If one considers a car company that keeps a target of about 500 luxury cars, they would need a list of possible individuals who are likely to buy their product. Maybe a list as large as 5000-10000 would be good, which one can get from the social web by employing a crawler application with strategic keywords. This approach provides the source of the contact, which can be used to connect with the contact on a one to one basis and engage in further communicate. One can quickly understand their intent to buy the product and progress further to the prospect cycle or even a sale.
To calculate the customer acquisition cost in cases like these, The typical cost heads would be:
a) Web crawler tool
b) A social networking site or a list site ( which is usually free)
c) Emails
d) Calls or inside sales
Effective messages at every touch-point can even quicken your conversion process, which could optimize the costs further.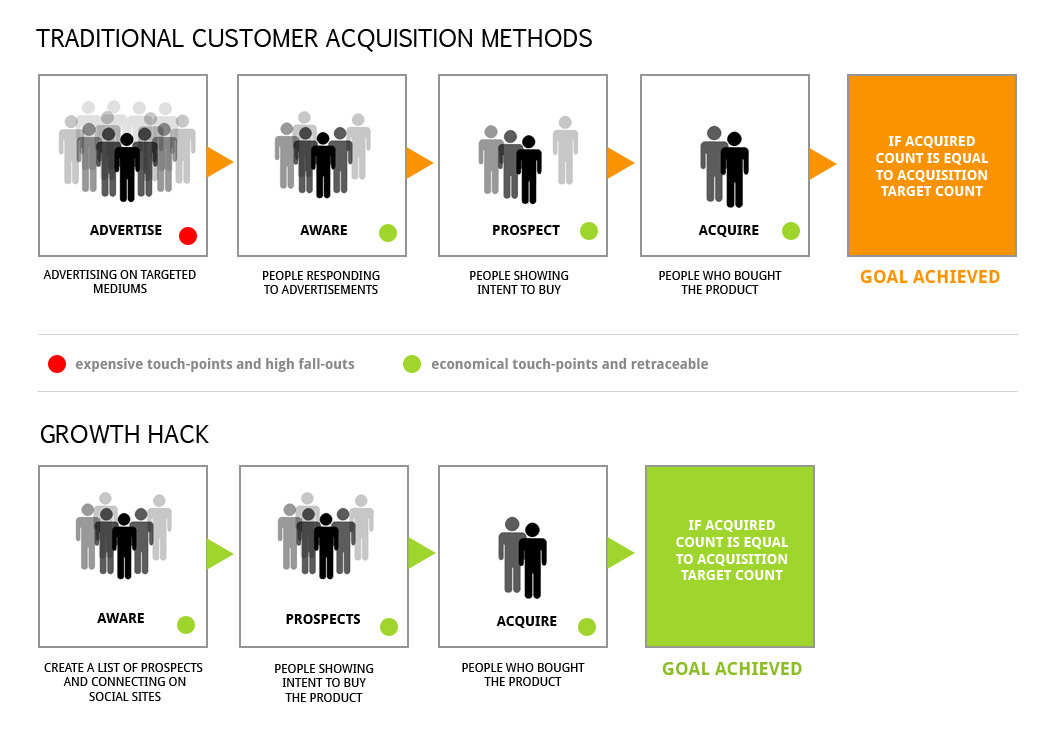 Unlike traditional methods, where you are unsure of the number of turn-outs for the ads and also unsure about the potential capacity of the turn-out, the growth hack technique actually works on a high probable potential list, which filters out the possibility of an unqualified audience, eating into your marketing budget