Modern marketers understand that mobile apps are far more effective than SMS or mobile-optimized emails and are now using mobile apps as the priority touch-point to engage customers with personalized messaging. With more users buying online, businesses are working towards building their own app where they can engage their mobile customers more effectively.
Marketers are focused on data insights and personalization, along with effective app design to improve their customer engagement rate. Tracking SDKs are effectively used to get behavior insights of the target audience which can be used to understand user behavior and strategize contextual messages
App Notifications can solve problems of getting your customers to remember your app, understanding their usage flow, creating goal based usage pattern and rewarding them with personalized gifts. Solving these problems can triple retention and engagement rate
According to a Gartner study, rational customer engagement through systematically 'teaching' your customers to make the best use of your products, is one of the key ways for developing an appropriate deep understanding of the products
Plumb5 Mobile SDK helps marketers to track and engage customers on their mobile apps. Plumb5 tightly ties mobile behavior and web behavior, which allows the marketer to seamlessly visualize each customer behavior across both active touch-points.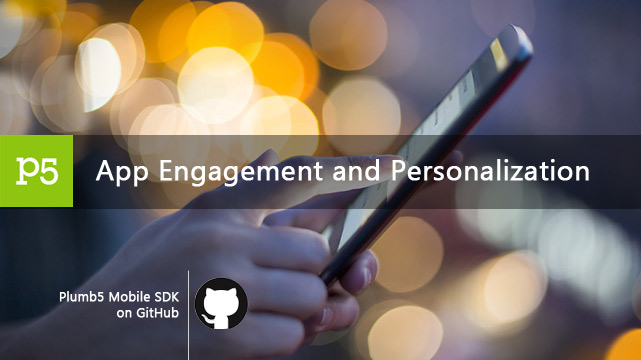 Using Plumb5, the marketer can push real-time notifications onto the mobile app based on web shopping patterns and recreate engagement back on the web, based on mobile usage. Using Plumb5, the marketer can create targeted campaigns, by providing intelligent customer segments and in-app messaging capabilities.
With Plumb5 Mobile SDK, marketers can achieve the following
Understand users by behavior and usage patterns: Track mobile events and integrate it to the unified customer behavior across all touch-points. You can individually monitor the mobile app for touch-point related metrics
Single dashboard to engage in real time: The marketers can use a single interface to manage engagements on both web and mobile touch-points
Personalise app experience based on user segments: The marketer can create user segments based on unified behavior of the user or just based on mobile behavior
Simplify cross-platform campaign management: Marketers need to run into different products to manage their campaigns. Without seamless integration of two products, it is a nightmare to pick insights from the other product and see an unified view. Plumb5 solves this problem by having it all on a single platter
Maximise conversions: Marketers can set automation to understand behavioral patterns on Mobile apps and trigger contextual messages for higher conversions
Flexible API to easily import &export data: Mobile data collected on Plumb5 can be easily connected to other apps, using Plumb5 web services
Related Article: Beacon Marketing