To achieve real-time delivery of customer insights, marketers need to adapt tracking touch-point interactions using unified scripts. Unified scripts helps in maintaining single trackers which runs on all possible touch-points so as to keep a single stack of all customer actions irrespective of the touch-point
Why Unified Tracking is important?
To improve efficiency of your campaigns, you have to seriously work on getting real deep insights of the customer. The best way to collect information about your customer, is to listen to your customer at all touch-points. That's the closest you can get to your customer.
Touch-point data expose us to user's behavior covering interactions, responses, sentiment, and transactions
The current practices involve collecting/tracking data of some of the touch-points but again, it is handled by multiple apps. This creates a extra task of integrating the different sources (apps) to understand the behavior of a single user on two different touch-points.
For example: If you are running a mail campaign using a email app, where the mail's objective is to get the recipient to go to a product page. The email delivery and interactions will be recorded on the email app. But when the recipient clicks on the mail and lands on the website, the product page will have a different app to track the web behavior.
Now to understand the basic behavior of this user, you will have to integrate both these data sources, using a unique identifier (common to both sources) to understand the web behavior of the mail respondents
While apps like Hubspot, Customer.io solve the single script for mail and web problems , it is still important that we will need the unification at all touch-points. Plumb5 Unified Tracking is capable of tracking Web, Mobile, Email, Web based store apps, Call center apps, IPTV, IoT devices, and Loyalty touch-points. It uses connectors to get social and free-web data and allows custom tracking for devices using internet technology
The big problem solved by Plumb5 unified tracking is that it maintains a single document for every customer irrespective of the touch-points. The Plumb5 patented technology allows the unified script to structure the document with tags for every customer interaction and allows the marketer to score and segment instantly and action engagements, assigned to that customer segment, back at the touch-point in real-time.
Click here to read more on how Plumb5 proprietary unified technology works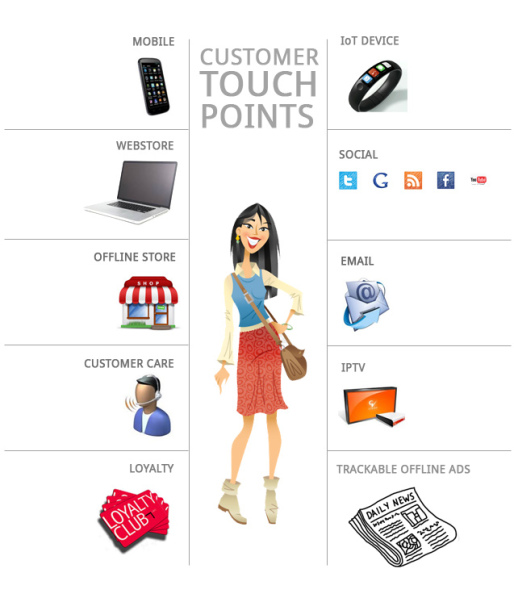 Advantages
Creating single view of customer behavior irrespective of customer touch-points
Ability to provide real-time insights based on latest interactions at all touch-points
Ability to engage/propose in real-time using the same unified scripts at all touch-points
Saves costs on data tagging, back-end integrations, and data redundancy, as the scripts are structured with auto-tagging features