Marketing Campaign Calendar
What Is a Marketing Calendar?
A marketing calendar is a written roadmap for marketing activities. It visualizes your planning and when to complete strategies. In other words, it is an actionable tool to achieve your marketing goals in a certain period.
For marketing success, a marketing calendar should contain the following 5 purposes:
Plan ahead to meet your goals
Notify workflows and progress status to get your team on the same page
Use it as your team's hub for your marketing activities
Share information for campaigns with your team
Make it easy to develop a strategic plan for the future
Plumb5 Campaign Calendar
Plumb5 Calendar provides a clear overview of what and when your plans take place. So you can plan ahead and produce better work and results. It keeps your team stuck and focused on your marketing plans. It has all the information for your strategies, and your team works according to the plans.You can keep your team informed through the calendar and push projects to completion. It gives you more control over your goals. Also, this helps you to get your marketing activities organized. Thus, it will save a bunch of your time and bring your goals one step closer to you.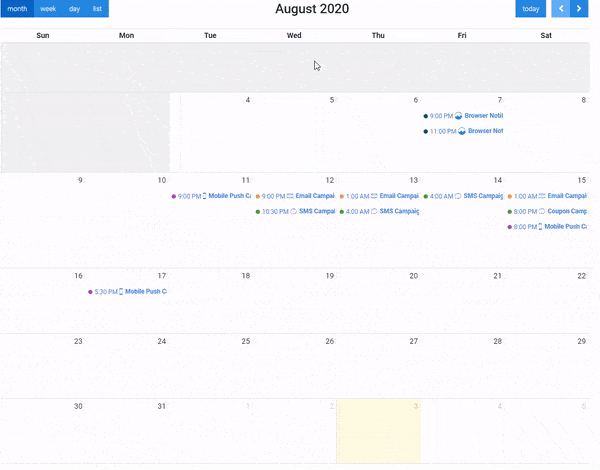 Plumb5 Calendar shows the following 4 types of Scheduled Campaigns
Scheduled Browser Notifications
Scheduled Mobile Push Notifications
The user would be able to navigate and view campaigns that are 1 month back in the past to 3 months in the future from the current date.
The Calendar provides the Following 4 Views
Month View : This view will organize your calendar by units of a Month
Week View : This view will organize your calendar by units of a Week
Day View: This view will organize your calendar by Day.
List View: This view will organize your calendar into a list by units of a Month
Clicking on a Campaign will take you to the edit screen of that campaign.
User Details
View Active user details
UCP: Unified customer profile. You can use this to see what other interactions were done by a returning user.
Visitors: ID of the visitor,if unknown it would be an IP address. If the user is known the ID is resolved to an Email ID
Source: Traffic Source
Page URL: Currently browsed page.
Location: Country & City details