In today's mobile world, marketers need to find new and innovative ways for their app to stand out from the crowd – beyond the download. Millward Brown Digital survey (August 2016) revealed that 43% of US smartphone owners use only four to six apps on an average day. Considering that the average person has 55 apps installed on their person's device, your app has to work hard to compete for user attention. The same study found that 72% of smartphone owners deleted an app because they rarely used it. These statistics underline the importance of mobile engagement to actively retain and engage users.
For many mobile marketers, it can be challenging to measure KPIs, such as Customer Lifetime Value (CLTV) and Average Revenue per User (ARPU), effectively. Each app platform has its own restrictions and device identifiers, which complicates the situation. Marketers need to work with multiple SDKs to measure the right KPIs.
Plumb5's Mobile Marketing Automation is designed to help mobile marketers do their jobs more effectively. It enables marketers and app developers to automate the delivery of personalized, relevant and timely messages to thousands or even millions of users. The end goal of mobile marketing automation is to improve the customer experience and to help you exceed your marketing goals.
In this Suggested Plumb5 Approach, we will examine how mobile marketing automation can assist marketers in their omnichannel marketing efforts throughout the App User Lifecycle.
The Basics – App Life Cycle user
In a typical App User Lifecycle blueprint of mobile app marketing efforts, It essentially to have a representation of the full App User journey from the user's initial acquisition through the app store (Organic) or via an App-Install ad ( 360 degreeNon-Organic), the user's in-app interaction and engagement and should end in Retention & eventual Monetisation. Plumb5's Mobile Marketing Automation essentially constitutes a complete marketing solution for each stage of the App Lifecycle. It allows marketers to build automated real-time marketing workflows for existing or potential customers and it provides a 360-degree view of your average App User.
Using a complete end-to-end Plumb5 marketing automation solution, marketers can track the customer journey from the install onwards. More importantly, they can take action, based on these valuable data insights.
Below is a brief overview of some approaches that can be used for mobile marketing automation use cases.
Location-Targeting Technology: With the number of mobile apps that leverage contextual or location data, location will become a prime identifier. Location-targeting technology (Beacons and Geofencing) provides opportunities for brands to engage with users in real-time, at the right time in the right place, whether in- store or at events. Messages can be triggered based on location entry, exit or dwell time. This technology also allows marketers to measure users' offline behavior.
App Analytics & Segmentation: With App Analytics & Segmentation, one can monitor the users in-app behavior, through events and tagging of unique features within the app. Using a single rich user profile, one can then segment the users based on demographics, location etc. for precise targeting. Insights gleaned from studying your user's behaviors and in-app activities will dictate the types of marketing automation campaigns you deliver.
Funnel Analysis: Within Analytics, Funnel Analysis can help you identify exactly where users drop off on the path to purchase, enabling a decision making action point to improve the overall user journey. This data is vital in the creation of a successful app strategy as it would allow pinpointing any issues in the App user interface early on, helping marketers maximize app revenue.
In-App Messaging & Push Notification: In-App Messaging & Push Notifications allow marketers to engage app users with targeted, relevant & timely messaging. Having identified the key target customer segments, one can deliver personalized and engaging content to these users in real time based on the behavioral data collected at Plumb5. The right content, delivered on time and on target, will capture your user's attention and compel them to take action.
Mobile App Attribution: Using Mobile App Attribution, Marketers can track which campaign promoting your ad campaign paid off or help in optimizing your ad spend across multiple affiliates enabling Cost-per-Install (CPI) measurement. Marketers can include user interaction data coming from mobile apps into the cross-channel attribution analysis, to understand how mobile app contributed to a physical or an e-store purchase.
External CRM Integration: Using External CRM Integration, One can sync data from the existing CRM to connect customer profiles, both inside and outside of the app. This will offer unparalleled insights into your customers, a full 360-degree view, and enable you to deliver targeted omnichannel experiences.
Location-Targeting
Geofencing
Geofencing establishes a virtual boundary around a real-world geographical area and is as simple as dropping a pin on a map within the mobile marketing platform. Geofencing has wider and less precise targeting abilities with a minimum targeting range of about 100 meters expanding out to a city district or greater if required. A simple example of this would be to target a retail app user entering the store and provide them with a personalized push notification about the offers of the day.
Both Geofencing and Beacon technology are designed to complement rather than conflict with each other. The overall aim is to deliver contextually relevant app engagement while providing the marketer with a deeper understanding of the user's offline behavior, such as their entry, exit and dwell time in the particular physical location.
Location-Targeting with GEOFENCING:
Geofences are created using an interactive map tool. Users enter a location and set a radius, creating a virtual perimeter; this is used as a geofence. Details of the geofence are then communicated to a set of mobile devices. Apps on these devices then use the device's own LBS to monitor the device's location, identifying when the device has crossed the fence. Once Geofences are active and running on devices it can gather various types of information relating to the interaction between fences. This includes:
AGGREGATED DATA
The number of times a geofence has reported enter.
The number of times a geofence has reported exit.
The number of users that have entered a geofence.
The number of users that have exited a geofence.
The average time spent in a geofence.
INDIVIDUAL DATA
When a device enters a geofence.
When a device exits a geofence.
When a device enters AND exits a geofence.
How long a device has spent within a geofence.
The user that owns the device
This data can be used to create a heat map, highlighting areas of concentrated activity and analyzed to identify common behavioral patterns.With Plumb5 marketing automation, one can automate the delivery of relevant, contextually aware communications in real-time, which suggest long-term monitoring and are therefore less likely to be well received by customers. Insight into your customers' behaviors arrived at by effectively tracking their movements and activity can inform a marketing automation program, ensuring targeted campaigns reach users when they are most likely to be able to take action.
Insight into your customer's behavior is arrived by effectively tracking their movements and activity can inform a marketing automation program, ensuring targeted campaigns reach users when they are most likely to be able to take action.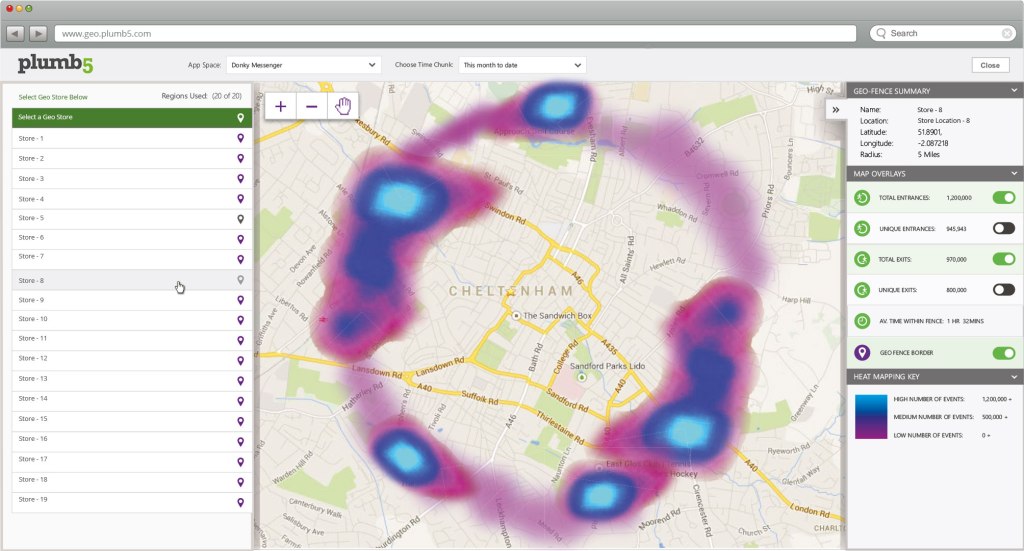 Using automation to enrich the customer journey:
Once businesses are aware of the ways they could add value at each stage of the customer journey they can then decide how best to fulfill this requirement and when and how to deliver the appropriate content. The use of triggers (based on rules) introduces the option to plot message delivery throughout the customer journey.
The benefits are clear when delivering real-time, location-aware content that provides contextual value along with benefits of updating your CRM with fresh customer data in real-time. However, no businesses have the ability or resource to do this manually. This is why it is becoming increasingly common for businesses to use software to automate elements of their business communications, delivering certain pieces of content or communications at a range of set times and frequencies, maximizing ROI and freeing up human resources.
Combining push messaging with geofencing
Push is a permission-based mobile messaging channel that allows for the delivery of useful and informative content to the mobile device user. Using this simple mechanism, notifications can be delivered direct to a user's home screen, 'waking up' their phone or tablet upon arrival. These notifications are text-based, usually containing snippets of real-time information or alerts. They are widely used to increase app engagement and user retention. Users only receive push notifications when they have granted the app permission to deliver them. Push notifications are easy to implement in Plumb5 and, when best practices are followed, can be a great way to interact with users. However, businesses should be wary of overstepping the mark and 'spamming' users
The ability to send push notifications to a mobile device based on interactions using geofence data provides new options for a range of marketing organizations. For example, when a device enters a geofence around a store, content relevant to an individual's current location could be sent – this could be details of an offer or a coupon for buying an accessory– based on past product purchase, or a simple order update – "Good Morning, Mr. ________. Thank you for entering XYZ Store zone – your Order id ________is ready for pick up"
Some of the possible use cases could be as follows:
Creating an impression by delivering an offer or welcome message to shoppers or visitors.
Improving the shopper or visitor experience by providing location-specific experience enhancing content.
Enhancing customer service by offering assistance.
Driving footfall and increasing sales by delivering timely offers or coupons, attaching a voucher to the messages where applicable.
Prompting referrals (recommend a friend) or social media sharing.
Managing traffic sending to individuals in certain areas, influencing footfall.
Delivering tailored real-time updates or reminders.
Some of the other uses that marketers can use are:
Tracking on a map for planning recommendation advertising: Aggregated data can be used to create a heat map, revealing where and when the largest volumes of entrances and/or exits are occurring. This can help businesses make data-driven decisions about the placement or pricing of display advertising or recommendations, ensuring they make use of or attach the appropriate premiums to areas with the highest exposure to foot traffic.
Updating CRM with location information: Plumb5 Apps can notify an external system (Ex: CRM)when a fence is crossed or when a user has spent a certain amount of time within a fence. By feeding visit information back into a CRM, businesses gain the opportunity to deliver an effective follow-up communication. By linking their mobile CRM to their standard CRM a theme park, for example, could record each individual's visit history, record their visitor frequency and tailor the marketing communications accordingly. For E.g. if a user is frequenting A pizza outlet geofence around during specific time period – one can create personalized offers to ensure footfall to the pizza outlet.
Gathering user information on fence crossings: It is possible to export the details of all the users that crossed a particular fence over a specified period of time. Businesses can use this data to deliver future highly targeted campaigns to an audience segment they have strong reason to believe could be receptive.
Beacons:
Beacons are a piece of hardware that can be placed in a particular location – its function is to simply transmit a signal. The app on a customer's smartphone then registers this signal and relays the data back to the mobile marketing provider. The provider may then automatically send a personalized push notification or in-app message to the customer, based on their unique CRM profile and in-app activity. This can act as automated location-based mobile marketing.
The key here is to ensure the communication is contextually relevant. If the content isn't relevant to the user, it is likely to get pushed aside. In the case of a retail outlet, for example, the notification should be based on a customer's in-app preferences, location, and previous shopping habits. The shopper, in this instance, has previously placed a certain designer brand of women's spectacles or shades in their shopping cart within the app but then subsequently exits the sales funnel without purchase. A subsequent in-app message has failed to encourage her to complete the purchase.Using the Beacons, the shop can then send a personalized notification to the user when instore and advise her of an exclusive promotion on this particular product.
By layering the above customer data (in-app preferences, location, CRM data and previous shopping behavior), marketers can engage with mobile app users in real-time using personalized messaging which will, in turn, deliver more conversions. Beacons have much more precise targeting capability than Geofencing from a few meters down to about half a meter in our experience. Beacons can gather various types of information relating to in-store behavior of the users the same includes:
AGGREGATED DATA
Shelves that are most frequented by users (Beacons Placed at shelf level – for a beacon range).
Average time spent by the users near each shelf
Frequency & Time Spent by the users wrt Demographics – e.g. More Women near shelf A – More Men near Shelf B
INDIVIDUAL DATA
When a device enters near a shelf/ beacon range.
When a device exits a shelf/ beacon range.
When a device enters AND exits a geofence.
How long a device has spent within a geofence.
The user that owns the device
Mobile App Analytics & Segmentation
Successful data-driven marketing is based on a people-centred approach to insights and analytics. However, marketers struggle with data collection, as enough data isn't available to understand their customers beyond basic data such as demographics and purchase history. In order to increase the app user's lifetime value and drive engagement, it is an absolute to have an in-depth understanding of your average app user.
Plumb5's Mobile App Analytics provides full visibility of your users and their in-app interactions. This gives you a complete understanding of what areas are being accessed and how often. This is primarily achieved through tagging of key features within the app to measure engagement. A simple example would be an ecommerce app where the more details and add-to-cart buttons on a product page are tagged to measure in-app user behavior and browsing patterns.
Similarly, an event can be created in the app to measure user interaction and drive conversions. For example, post installing the ecommerce app, it may offer personalized list of items based on customer's previous purchasing habits. For example, a user looking for fashion accessory may have recently purchased a great looking dress via the desktop site after extensive research. She now downloads the app and receives a list of complimentary items on opening the app, including eye wear, watch or any other accessories that go along with the purchased dress.
This is exactly identical to actions you would perform on your own web analytics, with specific goals designed to drive further sales and conversions.Through the sales funnel Analysis, one can track user flows within the app and analyse conversion rates. This will then allow you to re-engage users who drop off and to optimise the app for an enhanced behavioural analysis.
Segmentation
Too many marketers make the mistake of simply assuming they understand their users and know what they want, without actually using analytics to confirm their theories. By tapping into app analytics and really getting to know your users, you'll know what types of marketing campaigns are likely to resonate with them most.
Moreover, utilizing this data, you can create segments of your users based on demographics, interests, and location. Segments can also be layered with in-app behavior: for example, you can tag a page, action or event in the app and segment and target users based on their interaction with these features. By layering multiple segments, you can precisely target users with unique content for an individualized customer experience.
Moreover, utilizing this data, you can create segments of your users based on demographics, interests, and location. Segments can also be layered with in-app behavior: for example, you can tag a page, action or event in the app and segment and target users based on their interaction with these features. By layering multiple segments, you can precisely target users with unique content for an individualized customer experience.
Moreover, utilizing this data, you can create segments of your users based on demographics, interests, and location. Segments can also be layered with in-app behavior: for example, you can tag a page, action or event in the app and segment and target users based on their interaction with these features. By layering multiple segments, you can precisely target users with unique content for an individualized customer experience.
Existing customer data from a third-party CRM can also be integrated to allow for a complete omni-channel customer profile. This is particularly useful for delivering personalised cross-channel marketing to your app users and for future re-targeting.
A financial institution, for example, could create a key target customer segment by layering the following existing CRM data and in-app behavioural insights:
Female self-employed professionals aged 25-40
Loyal customer for past 4-6 years, with savings plan and strong credit history
Regular App user, uses Account balance Overview weekly, pays bills and completes account transfers monthly
No current pension plan in place
Viewed information on pension plans within app four times in past month
Using this segmented data, the financial institution can target the user with in-app or push messaging, cross-channel advertising or location-targeting while she is at her local branch.
Funnel Analysis:
The use of 'funnels' allows marketers to track the various steps a customer has gone through on their path to purchase, from Awareness all the way through to conversion. Through Funnel Analysis you can identify when, where and why your customers dropped off. This data is extremely valuable to your overall marketing strategy as it will provide you with a deep understanding of how to improve the in-app user journey and the overall conversion rate.
Re-engagement
If an app user has selected certain items only to give up because they got distracted, had second thoughts or found it difficult to check out, the marketers have lost out on potential revenue. These are all common issues that will need to be addressed.
In-App Messaging and Push Notifications can quickly address this issue. For example, if the user was looking at buying a new swimsuit for their holiday but then stopped when they got to the confirmation page, they have shown clear clear buyer intent. Segmenting these customers and then re-engaging them with personalised messaging will provide relevant nudges to help them complete the purchase and drive increased revenue for your app.
Feedback
If your customers are repeatedly using your app but not completing key expected user journeys, this indicates a lack of effectiveness in the user interface design. Based on this data, you can optimise and test the user journey flow to make it easier to navigate for your app users.
Time Lag
If it is clear that sales are not performing well in the app, it is crucial to be able to identify which specific step is causing the issue. By identifying the page the user spends the longest amount of time on before abandoning the cart, you can pinpoint what may be discouraging users from completing the purchase process.
Identifying Loops
If a user is continuously going from the search to results page, it may be a sign that the user cannot find what they are seeking. A retailer, for example, could take this as an indication that their product directory is not as diverse as they may have previously believed.
In App Messaging & Push Notifications
Recent research shows that marketers who focus on the 50% of users who opt in for notifications will have the most repeat business, greater revenue and higher engagement. This audience is already on board and interested in further engaging with your brand. Consumers have now come to expect highly personalised and contextually relevant messaging however.
By using in-app messaging and push notifications intelligently, marketers can convert one-day users into long-term users. We take a look at how automated messaging helps app marketers drive inapp engagement and boost ROI.
In-App Messaging
In-App Messaging is a great way to reach and engage users while they are interacting with your app. It can be as simple as welcoming them to your app and giving them a compelling reason toaccept notifications or introducing them to new features. It can also serve as a prompt to users to complete their journey to purchase. In-App messaging is best used at contextually
It can also serve as a prompt to users to complete their journey to purchase. In-App messaging is best used at contextually relevant moments. To guarantee a successful messaging campaign, multivariate testing is key tohelp you pick the campaign that will deliver the highest ROI.
This essentially means testing out different variants of message to measure the impact on a variety of metrics, including conversionrates, click-through rates and revenue generated from campaigns. Moreover, using Event DrivenAutomation, Marketer'scan trigger an in-app message to arrive at the right time during the user experience, increasing the relevancy.
This could be, for example, when a user is close to hitting a new milestone of Repeat purchase.In the case of a Shopping App, the user may have failed to complete a Transaction three times in the pastweek but they have reached their highest recorded Possible sale value to date with items in cart. On this
On this occasion, an in-app message is delivered offering additional Value like loyalty points or cash backs, encouraging the user to continue activelyengaging with the app and prompting a purchase at the right time.
Push Notifications
Push Notifications are a powerful way of reaching and enticing lapsed users back into the app or notifying users. This form of messaging is much more direct and therefore mustprovide real user value to the customer. By providing valuable messages that help improve the customer experience, brandscan increase retention and loyalty.
Timing is of vital importance for push notifications. Research shows that if a customer finds abrand's push messaging intrusive, they are much more likely to delete the app. By targetingthe right customer segment with a relevant, personalised message at the right time, the clickthroughrate (CTR) and level of app engagement will be much higher if the user is reminded of the offer at the right time.
For example of a targeted push notification would be in a retail grocery scenario – where the user often frequents the app or store on Wednesday & Friday – for e.g. If one sends a user a 20% discount off their next Purchase post the Tuesday purchase. The message is indeed delivered on the day ( Tuesday) however it would be more useful for the user before his next transaction i.e Friday – hence repeating the same offer on Friday to remind the user may yield more valuable results viz a viz an offer that expires on Wednesday. The notification provides an incentive – it's also timely and personalised to suit this particular target customer segment.Notifications can also be sent in real time using location-targeting technology, iBeacons and geo-fencing as discussed previously
Mobile App Attribution Analytics
Seventy-nine percent of US marketers polled in April 2015 by Millward BrownDigital said they would spend more on mobile marketing if their ability to trackROI improved. For marketers, there is a lot of uncertainty around cross-channel attribution and how to measure key metrics, such as customer lifetime value. The current data fragmentation of the mobile space poses a major challenge when it comes to the accurate measurement and optimisation of mobile advertising campaigns.
Today's mobile environment operates on a last-click attribution model where each advertiser runs campaigns with multiple ad networks. The user's last click determines which network gets credit for reaching a goal (installs in Cost-per-Install campaigns, or in-app actions in retargeting campaigns). There is an undeniable need, therefore, for marketers to have a clear view of the click-to-install path across all
There is an undeniable need, therefore, for marketers to have a clear view of the click-to-install path across all integratednetworks. This will inform them in real time, via what is known as a postback, that they have been credited with a conversion.
Without this view, each network could bill you for a click that led to an install, regardless of whether it was the last click or not. By using a robust attributionanalytics provider, you can accurately measure the effectiveness of your campaigns and avoid being overcharged. Having access to real-time campaign analysis and Cost-per-Install optimisation will also allow you to drive the best app installs and post-install events tomaximise advertising ROI.
Cost-per-Install (CPI) optimisation: Attribution analysis gives marketers a clear understanding of what networks and campaigns are delivering the lowest Cost per Install (CPI). This will enable you to allocate your advertising budget to the best performing networks in order to drive increased ROI of your Ad spend.
Post-install Event Analysis : Post-install event analysis will identify what media sources and channels deliver the most valuable users who meet your in-app event goals, whether engagement or revenue-related. This can help you focus on channels that precisely target the users who will deliver the maximum Average Revenue Per User (ARPU). The post-install analysis will continue to build up a picture of your app users and tie these events back to the acquiring network.
A/B Test your Campaigns : This allows you to test different versions of a single advertising campaign to see how small changes can have a big impact. You can track changes such as different creative content, Calls-to-Action (CTAs) or messaging and accurately measure which campaign performs best.
Retargeting: Attribution analytics will greatly inform your retargeting efforts. By having a clear picture of your best performing ad networks, you can retarget users on these channels to encourage them further down the sales funnel. This will essentially allow you to directly re-engage with your most promising customers using personalised ads and messaging on the most effective channels, enabling a maximum return on your Ad Spend. We will take a look at a compelling example of omni-channel retargeting in the next chapter on external CRM integration.
External CRM integration
To gain a true picture of your crosschannel customer, it is essential to integrate your existing CRM with your mobile marketing SDK. This will combine and connect customer data from bothoutside and inside of your App. By integrating existing customer data from a Point Of Sale, Loyalty or CRM systems with your in-app behavioural data, you will have a fully detailed omni-channel marketing profile of your customers. This will reveal insights, such as their multidevicepath to purchase and a complete history of their relationship to date with your brand.
Marketers can use this existing customer data to allow for deeper and more personalised segmentation within the mobile app. This will greatly enhance the performance of your cross-channel marketing strategy.
Enhanced Targeting: With one integrated customer profile, it is possible to measure the customer's brand interaction to date, both online and offline, and target according to the key segment that they fall into. This can be vital when it comes to re-engagement through omni-channel marketing.
In the case of a coffee retailer, for example, a customer may habitually visit one particular branch at 8.30am three times a week to pick up her morning coffee. The retailer has gained this information on her purchasing habits and timing from her loyalty card usage. In the past 7 days, however, the customer has failed to visit the cafe. This could simply be due to the fact that the customer is on holidays. The retailer checks for one other important piece of data: location. Has the customer passed the cafe in the past 7 days?
Utilising Geofencing technology, the retailer can see that the user has passed the cafe each morning. There is a high probability, therefore, that she is going to an alternative cafe. In order to entice her back in, the retailer sends the customer a targeted message the moment she passes the cafe the next morning. The message offers the customer a complimentary coffee and bonus loyalty points.From this example, we can easily see how this data enrichment, the layering of data, and enhanced customer view can allow you to deliver powerful customer engagement and contextually relevant messaging.