Conversions
Goals
Use goals to measure how often users complete specific actions.
Goals measure how well your site or app fulfills your target objectives. A goal represents a completed activity, called a conversion, that contributes to the success of your business. Examples of goals include making a purchase (for an ecommerce site), completing a game level (for a mobile gaming app), or submitting a contact information form (for a marketing or lead generation site).
Defining goals is a fundamental component of any digital analytics measurement plan. Having properly configured goals allows Analytics to provide you with critical information, such as the number of conversions and the conversion rate for your site or app. Without this information, it's almost impossible to evaluate the effectiveness of your online business and marketing campaigns.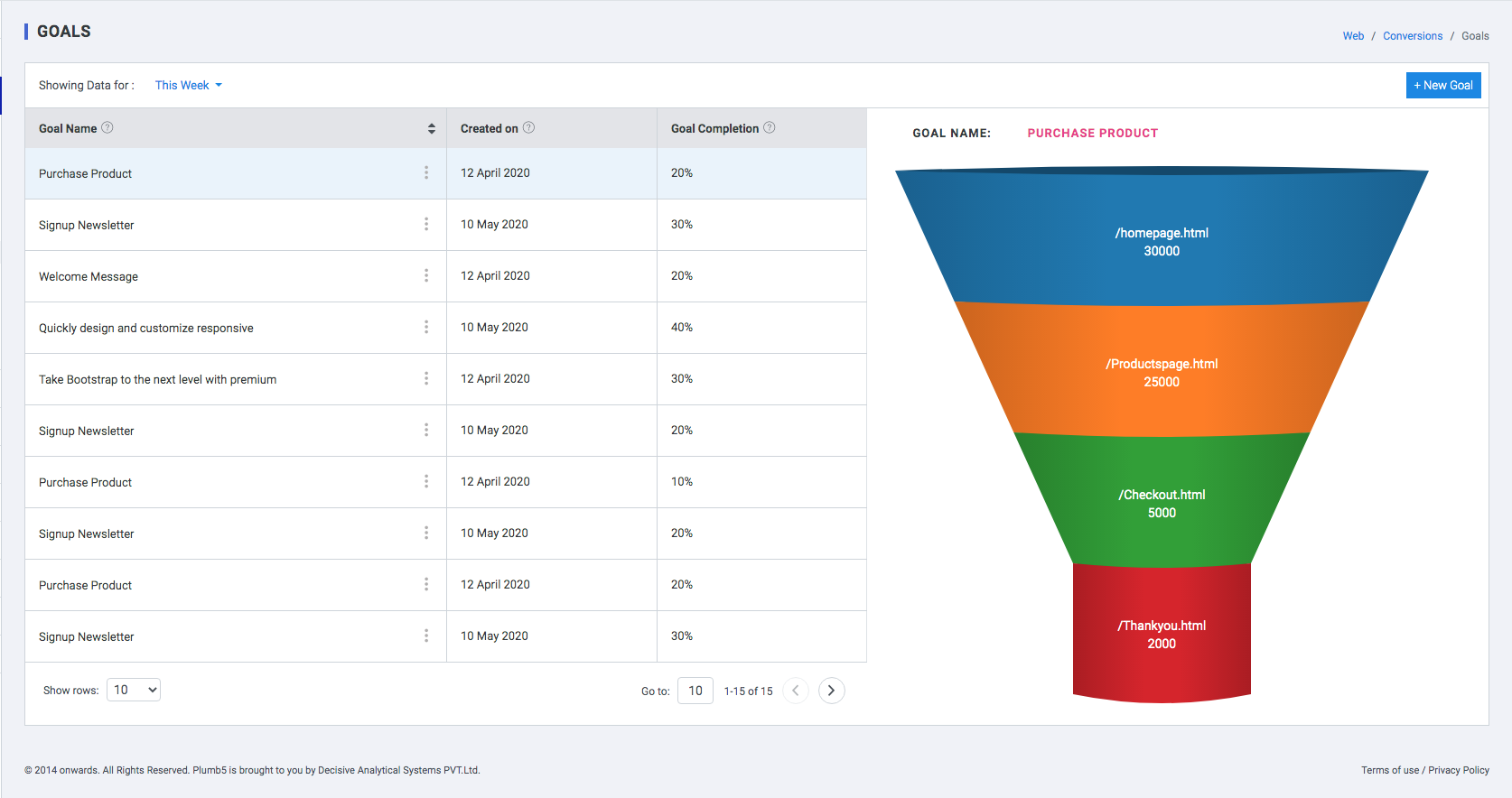 Funnels for Destination goals
With a Destination goal, you can specify the path you expect traffic to take. This path is called a funnel. When you specify steps in a funnel, Analytics can record where users enter and exit the path on the way towards your goal. This data appears in the Goal Flow and Funnel reports. You may see, for example, a page or screen in a funnel from which a lot of traffic exits before completing the goal, indicating a problem with that step. You might also see a lot of traffic skipping steps, indicating the path to conversion is too long or contains extraneous steps
Use the destination goal type if you want to track pageviews or screenview as a goal. This goal type is ideal for tracking those conversions where a user sees a 'thank you' page or 'order confirmation' page after completing a conversion.
Add a new Goal
Click + NEW GOAL to create a new goal, or click an existing goal to edit its configuration.
Add Step: Use destination goals to treat a pageview or screenview as a conversion. Enter the screen name or page URL in the Destination field.